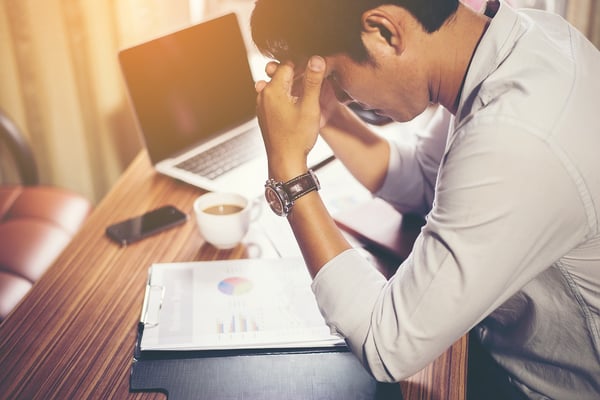 (Thanks to Sarah from Let's Talk Supply Chain for prompting this post.)
In the supply chain industry, we love numbers. We're completely enamored with them. Statistics, metrics, KPIs… we can't get enough. We fill our conference slides with data, graphs, and percentage improvements.
When it comes to the human side of our business, we're a lot less likely to talk. It's a rare conference that has any time set aside to talk about employee engagement. Rarer still are C-Level executives talking on stages about stress management or the emotional toll of leadership. We don't acknowledge that burnout is a real thing at all levels of this business.
I was recently in a car with 4 customs brokers, and I jokingly said that since I left the brokerage business to start a software company, it's the first time in years that I don't have a customer with a container stuck in a port. They laughed, sort of, but there was a distinct tinge of anger that I'd even broach the topic.
As an industry, we gripe about not being able to recruit more people into the business. Perhaps if we focused on making it a healthier place to work, we'd get a lot farther. Maybe it's time for the old "battle-hardened" attitudes to be put to rest and to acknowledge that an emotionally healthy environment is the foundation of a sustainable business.
It's not all gray clouds though. A lot of companies are taking real steps internally to build better physical environments for their teams. C.H. Robinson's new Chicago office is a great example.
The next step is to start normalizing these conversations at our industry events, this is a contrast to the tech world where these topics are becoming more mainstream. I would much rather sit on a panel to discuss employee empowerment and wellness than yet another blockchain talk. We all need to be more vulnerable.
We shouldn't just do it because it leads to better outcomes (which it does). We should do it because it makes us better people. It makes us happier. It makes our relationships stronger. It makes a hard business a little easier.
Let's start talking about these topics.
---
My first two years as the founder and CEO of Chain.io have been incredibly taxing on my body and my mental well being. Between constant travel, the raised stakes of building our first customer relationships, and the endless behind the scenes toil inherent in any company, I've really let my health go.
Disciplined diet and exercise don't come naturally to me (but hair loss does 😊). When I reach the end of a long day, my decision making capacity is basically used up. The part of my brain that says, "Walk past the convenience store, you have healthy food at home," just doesn't kick in anymore. And suggesting that I go to the gym at that point? Fuhgeddaboudit.
What's started to work for me (a little) is eliminating choices. I've started eating the same breakfast and lunch every day. I've drastically reduced the variety of clothes in my wardrobe. Things like this have given me back a little bit of capacity to apply to other areas of my mental wellbeing. It's not a perfect fix (and I still don't go to the gym), but it's a start.
To be clear, I'm not sharing this out of a need for pity or to put the focus on my relatively minor problems. Instead, I'm doing it to hopefully kickstart a dialog.
If you'd be open to building a panel or joint presentation on mental health and wellness in our industry, I will do the hard work to get us included on conference agendas (or rent a room next door if we have to). These are important topics, and we need to talk about them openly.